Daddy's Here With Full Service Web Hosting For Small Businesses
HostPapa started in 2006, and in a few short years, they've emerged as one of the leading hosting spaces in Canada. Today, they host more than 500,000 websites across the world.
How did they do it?
With great prices, fantastic support, super-sonic speed, and unbeatable uptime.
HostPapa is also one of the few independently owned Canadian based ICANN certified domain registrars.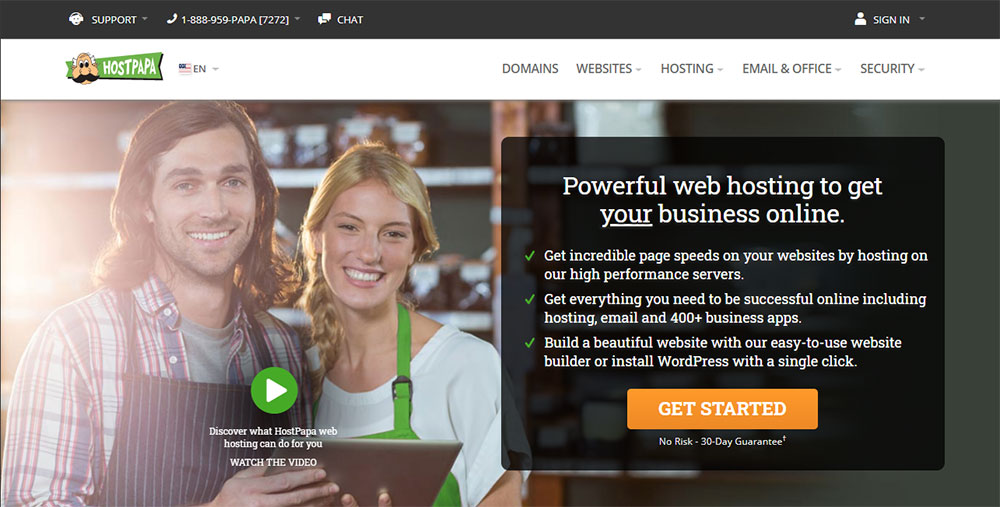 HostPapa: Consistenty Quick Web Hosting
Uptime is a measure of a hosting provider's consistency in delivering their services. It represents the overall time that the hosting provider is online and working properly. Uptime metrics over 98% are considered strong, and when measuring uptime performance, even a fraction of a percentage point can make a significant difference to your website's availability. HostPapa guarantees an uptime of 99 percent.
For example, if HostPapa returned an uptime score of 99.94% , it means that HostPapa's services were unavailable only .06 percent of the time. Broken down annually, the number is almost insignificant – it adds up to about 5 hours…out of the 8760 in the year.
How Fast Is HostPapa, Really?
Hosting providers with slower response times can be high-risk. Site speed affects your search ranking in Google's algorithm. A faster web site means a better visitor experience. A slow website may never see page one. Ever.
Load times: The measurement of time between a request and response in a cloud web server.
Because HostPapa has data centers all over Canada, website speeds are excellent for all hosting plans. However, location isn't the only factor in their high performance. They run SDD on all servers, and increase speed by using Intel Scalable CPU which are workload-optimized to support hybrid clouds, high-demand applications, and hardware-based security.
Support From The Papa Squad
Sometimes you need papa to solve a problem. That's where HostPapa's support team, The Papa Squad, comes in. Available 24/7, they are a team of technical customer service experts with the knowledge and experience to help solve any web hosting challenges that face today's websites. It's like having your own dedicated, professional IT team, without having to pay for it.
HostPapa's Super Security
No one wants their website hacked. HostPapa excels in security, and layers in extra security to protect your interests. Their basic plans come with advanced security features that would cost extra anywhere else, like, anti-spam protection, a server firewall, constant monitoring, and intrusion detection.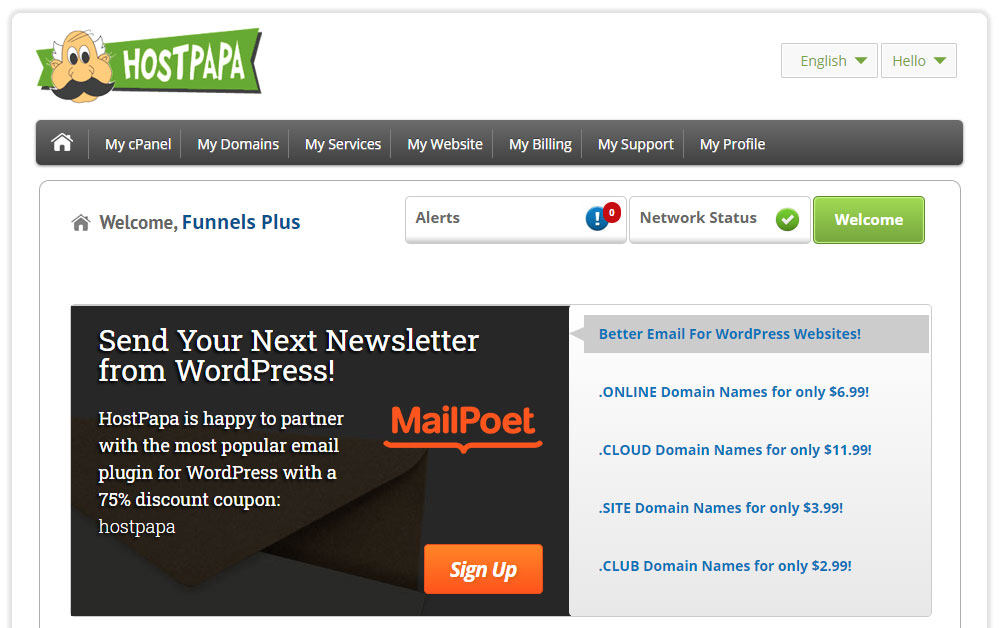 HostPapa's Optimized WordPress Hosting
Google loves fast loading websites and HostPapa makes it as easy as possible for their customers to build a super-fast site. Zero-click WordPress installation offers the latest version of WordPress and you can supercharge your website with faster load times with Jetpack, which is pre-installed with HostPapa Optimized WordPress plans. Also included:
100+ free professional themes from Jetpack
Lightning Fast WordPress Caching
Free Cloudflare Content Delivery Network
Jetpack's marketing features
Automatic WordPress Updates
99.9% Uptime Guarantee
Also featured is state-of-the-art security software that crawls HostPapa servers and websites, keeping threats at bay:
Free SSL Certificate
Advanced Firewall
Jetpack Security Features, including brute force attack protection, malware scanning, and spam filtering.
Can I transfer my existing WordPress site to HostPapa?
Yes, and they will do it for you at no extra cost. Once your purchase is complete, just let the PapaSquad know you'd like to transfer by opening a support ticket from your HostPapa Dashboard.
How Much Does HostPapa Cost?
Web Hosting:
HostPapa splits their offerings into three options: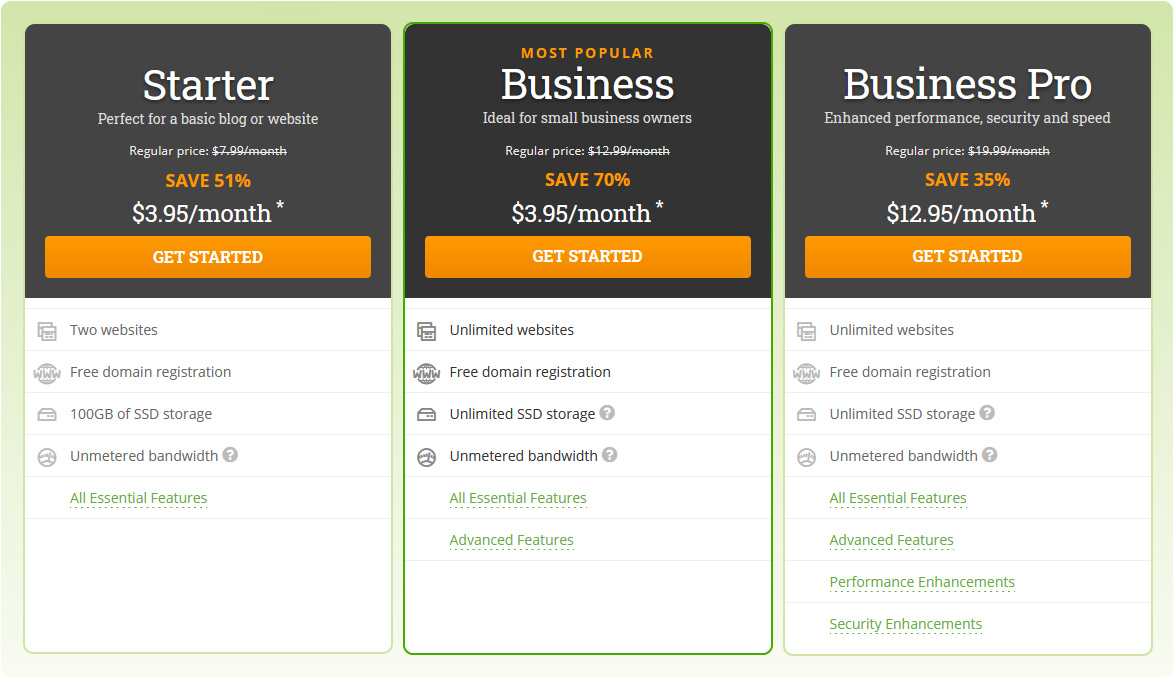 All HostPapa packages, Starter, Business and Business Pro, come with free domain registration, 1-click setup for WordPress, Joomla, Drupal and other content management systems. Also, all include basic SSL support.
WordPress Hosting:
Superior WordPress hosting, with expert support.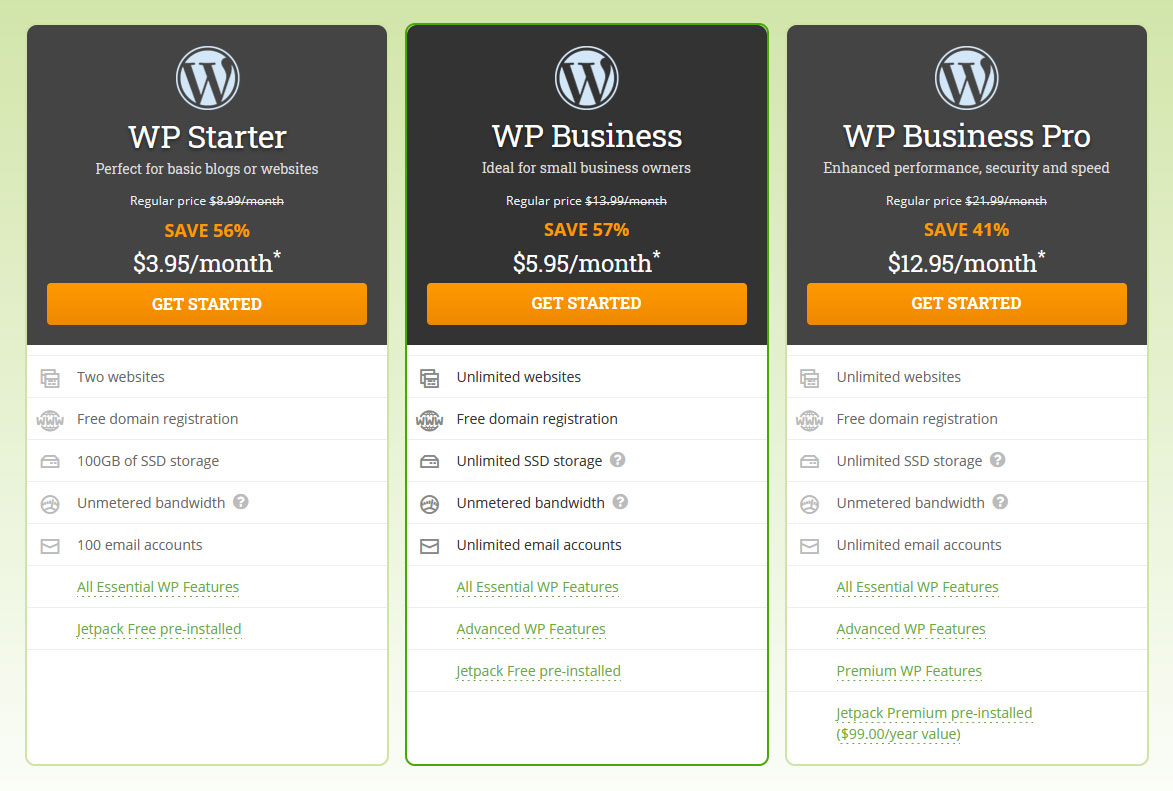 HostPapa Pros And Cons
Pros:
99.9% uptime guarantee  

Free .com domains

Technical support available 24/7

Unlimited traffic

90-day money-back guarantee

WordPress integration
Cons:
High-priced add-ons

Have to pay to unlock the most useful website builder features

No monthly billing
Conclusion:
HostPapa has excellent speed and uptime, their plans are packed full with features and they have low starting prices. However, there are some hidden fees and additional features that are locked up behind a paywall.
You'll likely get the most bang for your buck with the Business plan because it eliminates some of the limits in the Starter plan and adds some nice features of its own. However, if you buy the Business Pro plan, you'll be able to share a server with fewer users, get access to advanced security features, domain privacy protection, premium SSL certificates and automated website backup – all available as extras with one of the less expensive plans, but available immediately with the Pro package.
If you have a Canadian company and a need for online speed, HostPapa might be the web hosting solution that will help you achieve your business goals.