Email marketing is so important for any small business looking to get to the top. And for good reason. If well implemented, it can become the most important tool for building and maintaining customer relationships and bring in new sales. This is why investing in the best tools are critical to success. For many years, many software have dominated the market. But things are changer, and ConvertKit has emerged as one of the best email services that provides inexpensive marketing automation with exceptional results.

ConvertKit was created by Nathan Barry out of his frustration trying out the available tools out there. Today, ConvertKit is one of the best email marketing software in the world! In this article, you'll discover what ConvertKit is, its features, how to grow your email list with it and an honest review so you can see why KK is the best for you.
What is ConvertKit?
ConvertKit is an email service provider that targets bloggers, podcasters, and internet marketers. It is a marketing software which enables you to create large email lists, send bulk emails, and setup modern email automation. It also helps you to send the right emails to the right subscribers by tagging and segmenting emails appropriately. This means that with ConvertKit, casual readers can be turned to subscribers, devoted followers, and even repeat customers. All of which is done through a simple, intuitive, visual builder that anyone, no matter their skill level can use. Isn't that amazing?
ConvertKit Features
ConvertKit Email List Builder
ConvertKit enables you to gather email subscribers by creating a landing page or a form. You can embed these forms on your webpages or blog posts and blend their look and feel with your website design. Having created a form, you can write a short welcome email to subscribers and you can even upload a content upgrade that they'll receive automatically. ConvertKit will then give you a piece of code that you use on your site to embed the form. Another way is to use a variation of this code to create a clickable button calling on readers to subscribe. Also, it is very easy to duplicate these landing pages and forms too, and this approach enables you to do content upgrades for your blog posts.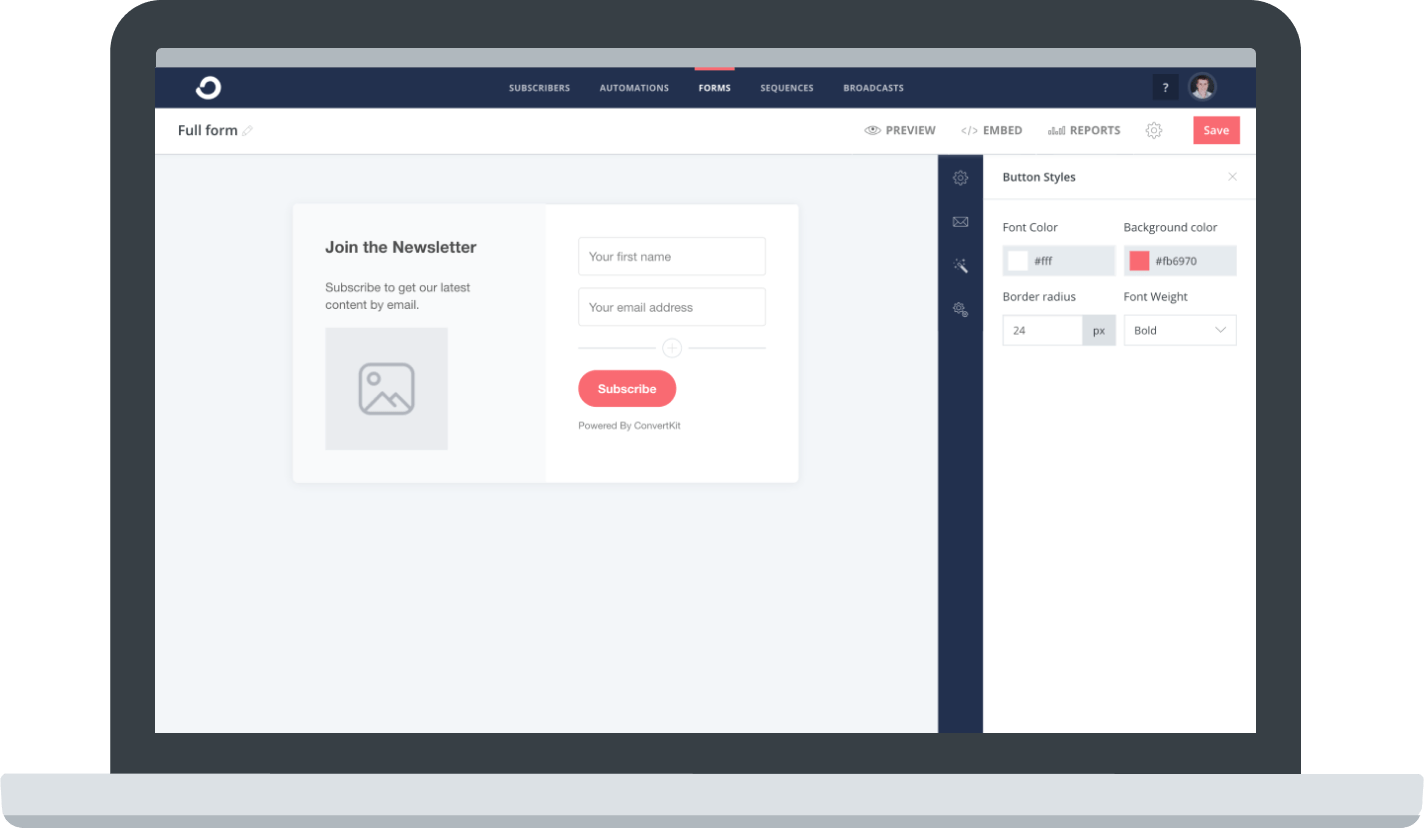 ConvertKit Email Automation
ConvertKit's automation features are very powerful and easy to set up. That's what makes it a better software than MailChimp and AWeber. It presently offers seven actions and eight different triggers. All you have to do is select a trigger and then determine what happens.
For example, you can decide to have a trigger set up for your course "Finish Your Book". When somebody buys this course, ConvertKit automatically adds the tag 'student' and sends this student a series of emails related to this course. You can even use this tag to find these subscribers in ConvertKit and email them directly.
ConvertKit has the best marketing automation for its price, which is a lot better than most expensive tools. You'll see amazing results almost immediately after setting up automated sequence. ConvertKit has everything from for you. From templates of the highest converting sequences to launching a new product, and an intuitive sequence builder that's easy to use.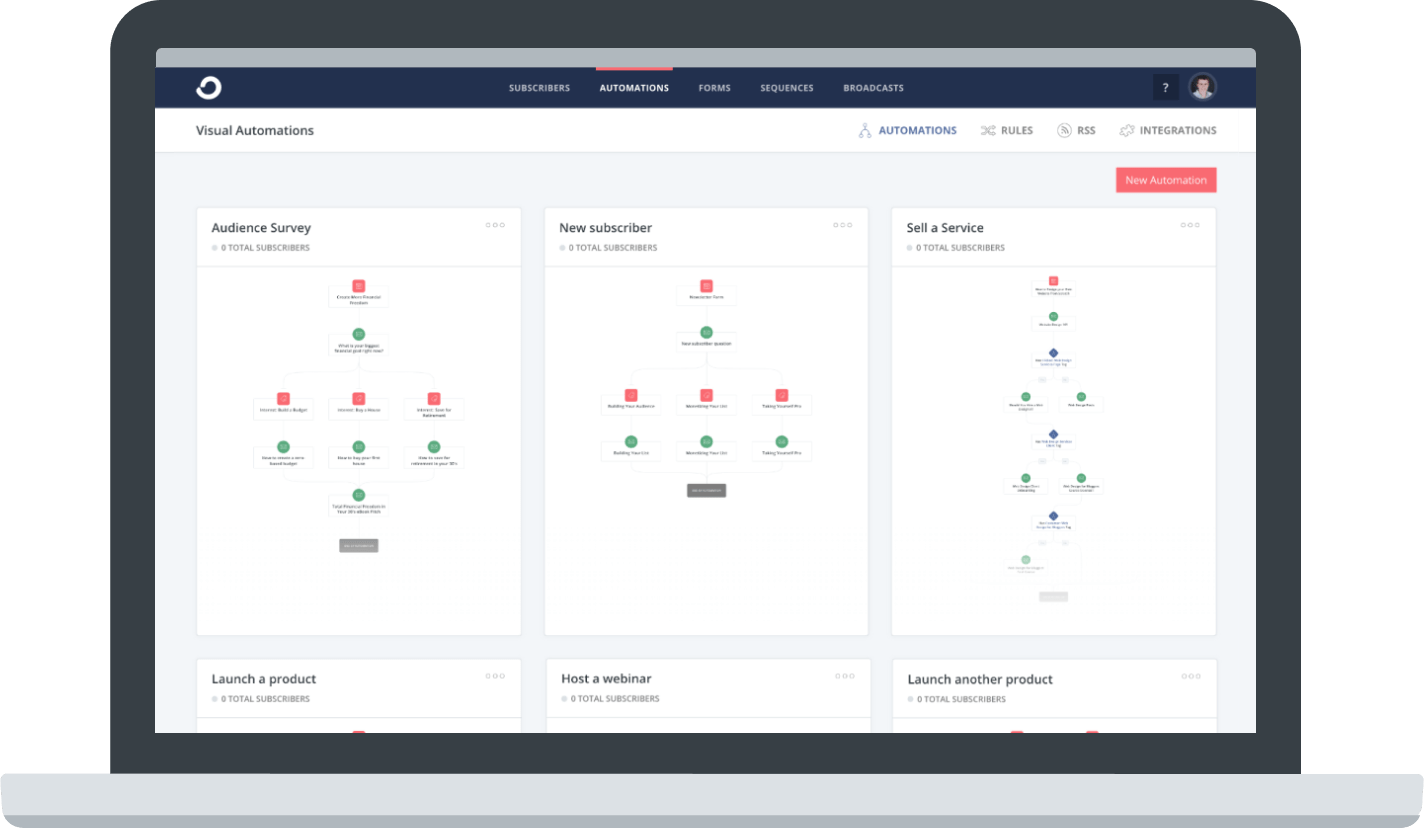 ConvertKit Resend Email
Email marketing is a very crucial part of every online marketing strategy. It's inadequate to publish a blog post and just hope readers will find it. You will need to promote the post, and you can't depend only on a single Facebook update or a tweet to attract new readers.
You can send a broadcast email in ConvertKit to your email subscribers. Now since people are busy, their email may fill up quickly and the may miss their emails. That means the open rate may be around 30 percent. But with ConvertKit, you can resend this broadcasts to people who didn't open the first email and can even change the subject line and amend the copy within the email.
This resend email feature is an amazing way to increase open rates and send post to subscribers who may have missed the first article you sent. A smart way of getting your email in front of the subscribers on your list without having to necessarily send the same emails to everyone is to resend emails to un-opens.
ConvertKit Tracks the Growth Of Email List
In MailChimp, you will see how many people were on my list but you will not be clear about how they got there in the first place. But with ConvertKit, you can always see all of this information in one place anytime you log in.
The central dashboard will show you the result of content upgrade and landing page. It also shows you what new email subscribers opted in and how much you have grown your list over a period of 30, 60 or 90 days.
Having this information upfront about your email list up helps you to avoid wasting time on tactics that has less or no return to focus on marketing activities that will grow your list.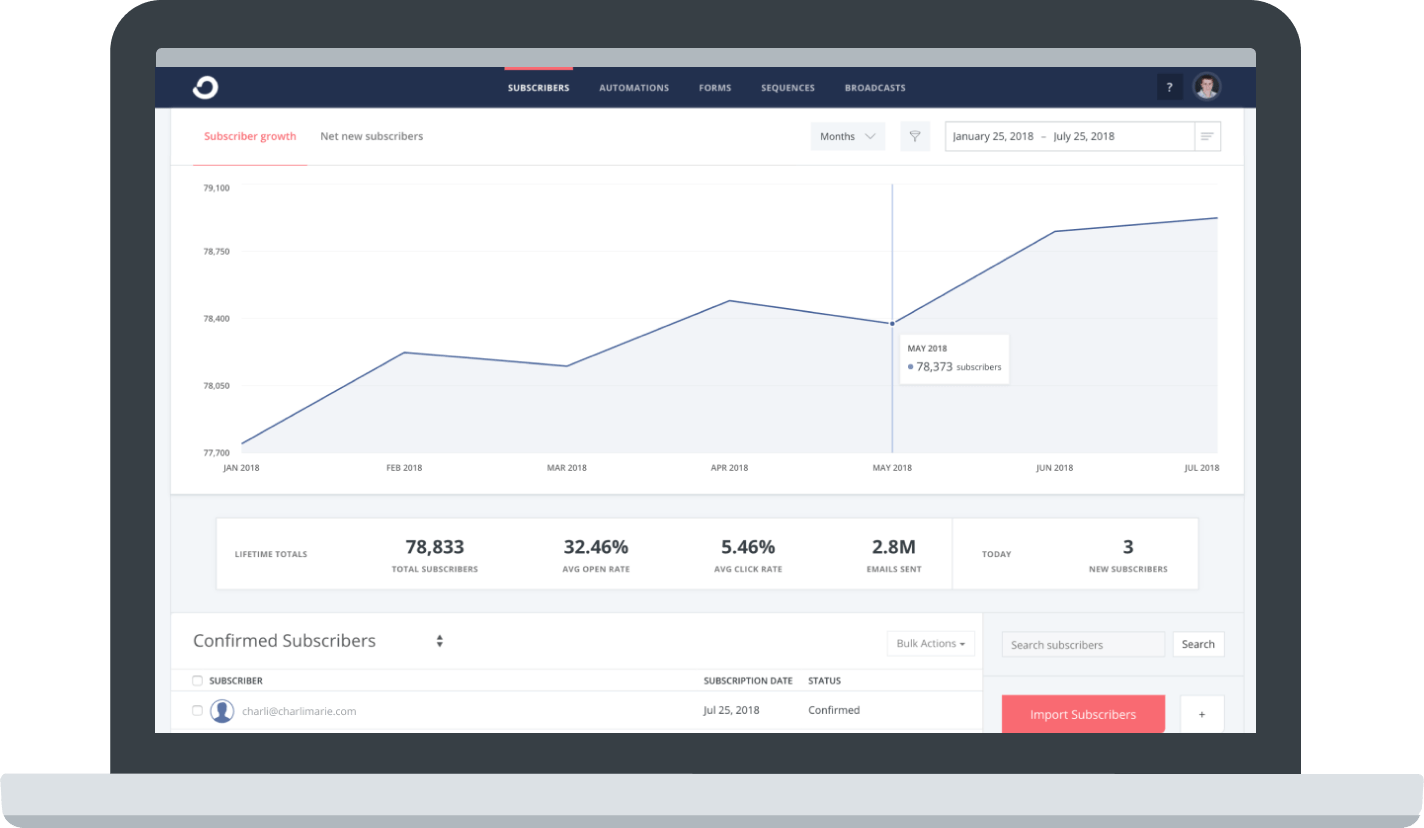 For Segmenting Email Subscribers
ConvertKit email subscribers are counted just once towards your monthly fee. Unlike many other popular marketing tools that treats each list individually and charges you for the total number of email addresses on each list. These software count your subscribers multiple times if they are on more than one list. With CovertKit, you can segment and tag your subscribers based on their interest instead of arranging your email subscribers by list. This is a great way of growing open rate and driving up engagement.
ConvertKit For Hosting Landing Pages
You can start writing guest post for different websites to grow your email list with ConvertKit. Writing guest post for other websites is a good way to grow your email list, build your profile and even work with other top editors. This works by adding a link at the bottom of your guest post in your landing page. Readers will definitely read your bio or call to action at the bottom of your post, Click on a link to ConvertKit landing page. Also, people will get to see what your bonus is about and they will definitively opt in to your email list to get it.
For Creating an Email Autoresponder Series
An autoresponder series is a series of emails that are sent automatically to new subscribers on your email list. This is a very useful feature for bloggers and authors. In your autoresponder, you can introduce yourself and your writing, send tips concerning your new book or a series of educative messages and send links of your best-selling blog posts to your new subscribers. Also, you can also send short surveys to new subscribers, find out more about their concerns and present a soft-sell where you talk about one of your books and ask readers to buy it.
Putting an autoresponder together for the first time can feel intimidating. Thankfully, ConvertKit provides an autoresponder series template that is quick and easy to build. You can configure when these emails should be sent and drag and drop these emails with ease, unlike what you get with MailChimp or even AWeber.
Why Should You Get ConvertKit?
With ConvertKit, building automated sequences is very easy. You can create a powerful sequence that put the right offer in front of your audience at the right time.
It has one of the best workflow and user interface in the market.
It has a tag-based system which is great for building emails.
The software was built specially for creators, and not for high-level marketers. So design, function, and integrations are the perfect mix of usability and control.
You can create personalized, high-converting emails within few minutes and blast them to a highly targeted list, which leads to more conversions.
It is user friendly and doesn't have a steep learning curve.
ConvertKit Pricing
ConvertKit is available for a one-month free trial, but after your first free month, it will cost you $24 per month to grow your list.
The pricing is based on number of subscribers as follows:
$24 per month for 0-1000 subscribers.
$49 per month for 1000-3000 subscribers.
$79 per month for 3000-5000 subscribers.
$119 per month for 10,000 subscribers.
$199 per month for 25,000 subscribers.
$379 per month for 50,000 subscribers.
$679 per month for 100,000 subscribers.
ConvertKit Support
CovertKit Customer Service is top notch and work round the clock to resolve all customers issues. The support service stands out especially when compared to most tools whose teams are only available through one channel during the week. ConvertKit's team is there 7 days a week!
Conclusion
ConvertKit removes a lot of headaches and is a great option once you hit a couple of thousand subscribers or have some money to invest. It is an awesome tool for most marketers, especially bloggers and digital course creators. ConvertKit is great for simple sequences and automation. Whether beginners or professionals, ConvertKit is the ideal email solution.