Discover the Magic of Clickfunnels
& How It Can Make Money Appear
Converting prospects into leads and leads into sales is a big job. Developing sales funnels to help your prospect navigate through your pitch and become a repeat customer takes a huge amount of time and effort, and if you don't do it right, your competition will leave you in the dust.
Is there a faster and easier way to set up sales funnels? Yes!
ClickFunnels figured it out.
What is ClickFunnels?
Clickfunnels is a website builder that also builds smart sales funnels. You can instantly create dozens of different types of sales funnels, including; opt-in funnels, sales funnels, webinar funnels, membership sites, and more.

Created by Russell Brunson in 2014, ClickFunnels was designed for entrepreneurs without programming skills to easily build pages inside of a complicated sales funnel, and successfully guide their prospects through the entire sales process. Initially used to help Brunson's team create sales funnels for their diverse ventures, they quickly realized the ClickFunnels design would be useful to others.
The Anatomy of a Sales Funnel
Typically, a sales funnel is divided into multiple steps, which can differ depending on the sales model.
They include:
      Awareness
      Interest
      Evaluation
      Decision
      Purchase
Also included:
Reevaluation: It's commonplace to have contracts that need to be renewed, and as a customer becomes more familiar with your brand, they will enter a reevaluation phase where they'll decide whether to renew their contract.
Repurchase:  This is where a customer repurchases your product or service.
Enter the funnel: We start with a prospect who just became aware of your brand. Your goal is to secure that lead and funnel them from "aware" to "interested". Keep in mind that depending upon how they've arrived at your website (organically, paid ad or enticing offer), customers will view your funnel differently and your opt-in rates could vary. Once you've piqued their interest, it's time to keep it. You may only get one chance to engage that person, and if they leave, you may never see them again.
Mid-funnel: Turning a prospect into a lead doesn't equal money yet. Once a prospect is aware of you, the challenge is to build their interest and establish a relationship with them while moving them through the funnel. This is the phase of the funnel where you offer your prospect materials (e-books, newsletter signups, online quizzes, trials, etc.) in exchange for their information.  However, the truth is that people are savvy, and they're not just going to buy anything unless they feel there's value. Your funnel needs to build in that value and create a bond with your prospect.
End-of Funnel: This is it! The moment that you use all your skills to turn that lead into a sale by creating reminders, retargeting content, and incentivizing your prospect. The final stage of the sales funnel is where you drive the lead to take action, aka – buy your product or service.
Getting to this stage is no simple feat. It takes an enormous amount of work, effort and tracking.
Why Use Clickfunnels
Before ClickFunnels, if an entrepreneur wanted to create a sales funnel, they were forced to patch together every single element of a sales funnel themselves or hire an expensive development team to do it for them. Every individual page needs to be created, and after that's finished, the entrepreneur (who isn't a programmer) must still connect the 3rd party programs and hope that they are compatible enough to work together.
With ClickFunnels, everything you need to build and launch your funnel is pre-developed, ensuring a fast and easy framework for your online business.
How Clickfunnels Work
There are 2 ways to generate leads with ClickFunnels:
Basic email or messenger leads: This is for organizations whose goal is to collect email addresses and build a list.
Longer form application leads: This is for gathering more detailed information, such as; name, phone number, address, etc.
One-click upsells are great because customers won't have to go through the entire check-out process again. Less hoops to jump through = better opportunity to make the sale.
There are 3 ways to sell products with ClickFunnels:
A two-step "tripwire" or "unboxing" funnel: Typically used on less expensive or free items, the end goal of this type of funnel is to convert a lead into a customer, then use one-click upsells within the funnel to make a profit. Simply speaking, you hook a prospective customer with creatively presented free or cheap offering and upsell them after they buy it.
A sales letter or a video sales letter funnel: Generally applied to products that require additional action to complete the sale, such as; additional product explanation, or presentations designed to promote the perceived value of the product. To generate additional profit per customer, this funnel also uses one-click upsells.
 A Launch Funnel: True to its name, this funnel used to build excitement during pre and post launch of a new product or service. This type of funnel works well for selling more expensive products by automating the small tasks, creating time for you to craft a story around your brand and increase the perceived value of what you are selling.
There are 2 ways that you can run an event with ClickFunnels:
With a live webinar using a third-party software such as; zoom or gotowebinar.
With an automated, on-demand, evergreen webinar that is completely run on ClickFunnels. For this funnel, you take a presentation you already created, and use their funnels to run the event.
Harsh Reality vs Clickfunnels
The truth is that most prospects will click by your site and won't buy anything from you right away. You must catch their attention first, and then guide them through the buying process. It takes time. Lots of it.
The goal of the entire Clickfunnels system is to help manage the leads at the top of your sales funnel, and direct them to a product or service to solve their problem. Between the moment that a prospect is aware enough to enter your funnel, to the stage when they act and successfully complete a purchase is where the real magic happens. During that time, loads of relationship-building experiences take place, like; personalized value-driven stories, tutorials and webinars. They are coupled with product suggestions to maximize your chances of converting that lead into a customer.
Flexible, all-in-one system
Easy to use
Free learning tools
Consistent updates
Quick set-up
Easy data tracking
  Closed source
  High cost
  Standard plan is limited
No 24×7 customer support
Create up to 20 Sales Funnel
Create up to 100 Landing Pages
No follow-up funnels
Drive maximum of 20,000 visitors to your Sales Funnel
3 payment gateways
Create 3 domains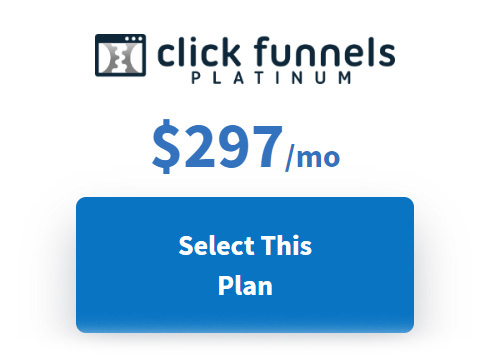 Create Unlimited Sales Funnel
Create Unlimited Landing Pages.
Unlimited follow-up funnels
Send Unlimited traffic to your Sales Funnel
9 payment gateways
Create 9 domains
Conclusion
ClickFunnels offers entrepreneurs the best of both worlds – The freedom and agility to create exactly what they want, without being forced to piece the entire sales funnel together themselves or spend money on a development team to do it for them. ClickFunnels makes it easy to systematically manage upsells and strategies to maximize profit, and with global access to the internet, connecting with customers around the world has never been easier or more profitable.