Build it All With Builderall
If you run an online business, you already know how many tools, services, and plugins you need to build your brand and gain sales, and it's likely that you switch back and forth between several of them.
Let's say you use one service to host your website, and another for email marketing, one more for SEO, and so on. This is not only annoying, but the cost adds up quickly and using multiple services to accomplish your business goals gets expensive, fast.
That's where platforms like Builderall come in.
Whether you're a marketer or an entrepreneur that just started a business, Builderall offers everything you need to launch, grow and maintain a successful online business.
What is Builderall?
Launched as an all-in-one digital marketing platform in 2017 by Erick Salgado, Builderall includes tools to assist with sales funnels, website building, landing pages, click map auto-responders, heat maps, and much more.
Instead of purchasing each tool you need to run a successful online business separately, Builderall offers all the features you need in one, easy-to-access place.
Is Builderall Easy To Set-Up?
If you're looking for an easier way to start a business and sell products and services online, Builderall software is fully integrated and simple to use, making starting and running an online business as uncomplicated as possible.
Builderall is a cloud-based system, so nothing needs to be downloaded or installed onto your laptop or computer. All the tools you need for success are included, eliminating the need to spend extra money on a host of separate tools or solutions. This will save you plenty of time and money. You can also synchronize Builderall with other online marketing tools.
What can I do with Builderall?
Members of Builderall can:
Design entire sales funnels

Build email lists 

Launch a blog, 

Create membership sites 

Automate business

Operate affiliate programs
Plus, Builderall enables you to send as many emails as you wish – there is no cap.
Builderall was made by experts with experience in designing successful marketing campaigns and building awesome websites. The platform is so simple for anyone to use, even if you are "technologically challenged" and have never created a website.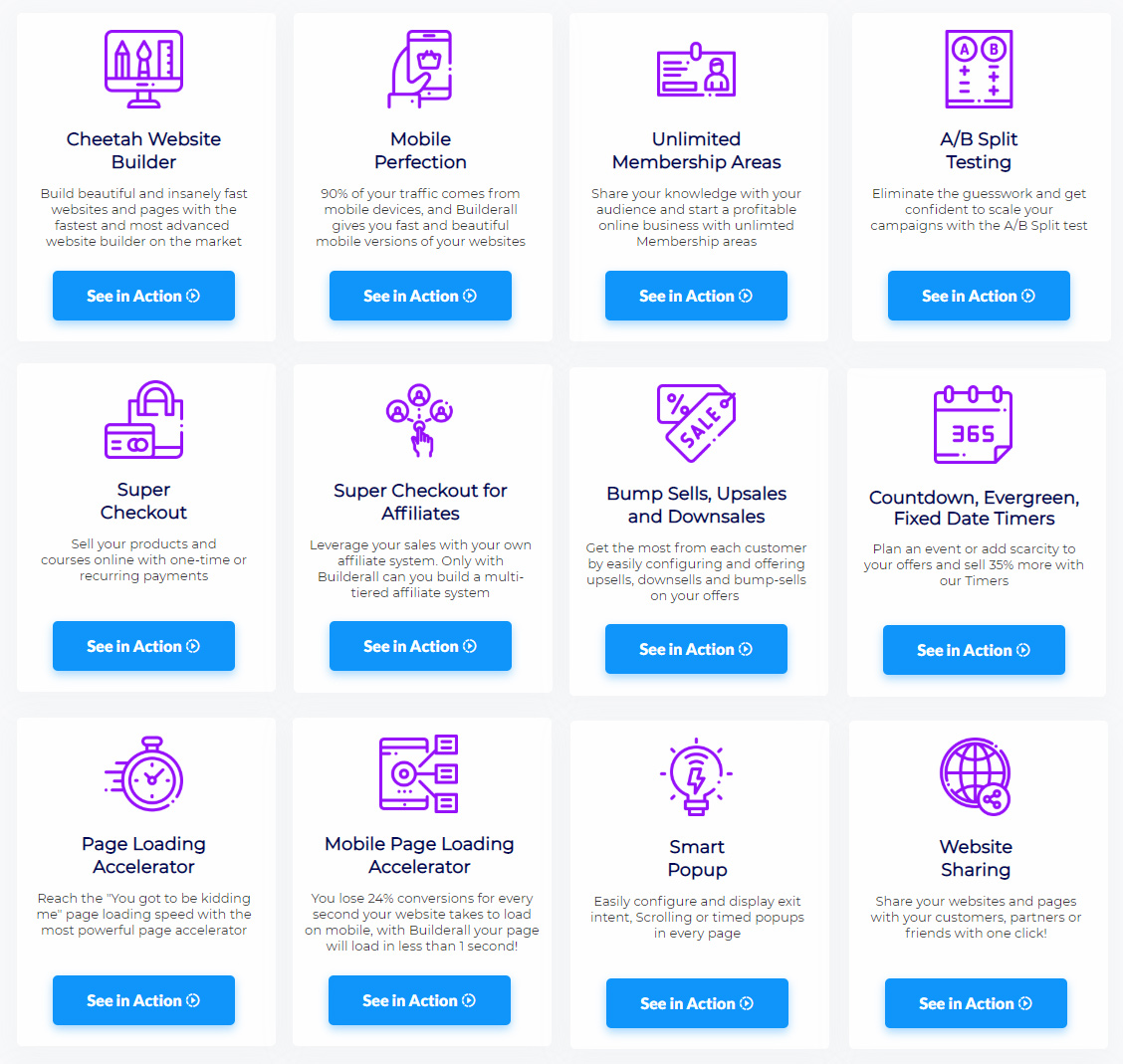 10 Cool Builderall Features
Builderall is loaded with features and functions containing all the tools needed for success in one package. Including:
1. Dedicated Servers
Builderall offers dedicated local servers to host your websites, sales funnels, videos, webinars, and anything else you need to support your online business. As a hosting service, Builderall is responsible for all internet maintenance, security, and backup issues, so you can focus on sales. The Builderall CDN network also provides servers in five continents, delivering quick loading speeds and high uptime.
2. Drag, drop and build
To create a successful online business, you need great landing pages, and Builderall offers a selection of comprehensive website builders that is without a doubt, one of Builderall's coolest features.
Builderall allows you to create your website in three different builders, so you can see how good your site looks on various devices, like mobile, desktop, and tablet. After you've determined which device your customers use to visit your website, Builderall can offer your visitors a unique and streamlined user experience that also helps make your website search engine friendly and responsive across all devices.
Builderall's three Site Builders:
The drag and drop pixel perfect builder
The drag and drop responsive builder
The mobile-first drag and drop builder.
3. Very Versatile
One of Builderall's best features is the extensive range of templates available.With a huge selection of attractive and fully optimized templates that cover a wide range of industries, Builderall can help you design a whole website, a sales funnel, or an individual landing page.
Builderall also provides several blank templates for those who want to create their perfect pages from scratch.
4. Heat Mapping
One unique feature that Builderall offers is the heat mapping tool, or click map. It allows users to view where their audience has been clicking on each page. This helps users understand how potential customers navigate the website and examines their browser behavior.
This gives users the ability to analyze which section draws the most attention, and then customize the page to increase conversions. Builderall also works with Google Analytics so you can monitor and track your audience and how they engage with your website.
5. App creator
Have you ever wanted to create an app? Builderall's app creator allows you to build, edit, and publish mobile apps available to distribute across different platforms at no cost. Creating a company app using this tool is a great way to let customers learn your business information and gain access to discount sales and offers, make bookings, and more. Plus, unlike many other free app creators on the market, the Builderall app creator is free from third-party ads.
However, to make money with your apps, you must create Amazon, Play, or Apple app accounts.
6. Sales funnels
Builderall sales funnel templates were created to increase sales and conversions for an online business. Loaded with options, integrations, and checkout opportunities, including two and three-step checkouts.
7. Email marketing
The MailingBoss email marketing tool allows you to create emailing marketing campaigns. Unlike many similar platforms, MailingBoss has no limits to email campaigns, meaning you can send unlimited numbers of emails to an unlimited number of recipients.
You can also divide your recipients into groups and use their information to further target your campaign. That way you can better customize emails and increase conversion rates.
8. Builderall Marketplace
You need an eCommerce store to sell your products or services online. So, just pop your products into the Builderall Marketplace, then choose your payment and delivery options.
Builderall Marketplace offers access to useful eCommerce features including coupons, pop ups, a streamlined checkout process, and more. You can also create an affiliate program so your customers and influencers can sell your products for you. Or alternatively, Builderall can create an affiliate website that you can use to promote and sell other people's products, earning a commission.
Builderall integrates with a variety of other eCommerce platforms and tools, like PayPal, Stripe, Shopify, for an easy, streamlined experience.
9. Membership sites
With Builderall, you can create or transform an existing website into a membership site. This offers customers exciting exclusivity, and is a great way to monetize your business.
10. Webinars
Webinars are an effective way to connect with your target audience and encourage them to visit your website or buy a product. Builderall offers a dedicated tool for creating engaging webinars.The tool also allows users to schedule webinars start times, enable chat, password protect webinars, monitor statistics, and integrate with MailingBoss.
What Support Does Builderall Offer?
The support team at Builderall has an extensive knowledge base and offers plenty of material to help users learn how to use the platform and its many tools, including:
Over 400+ training and tutorial videos that explain the different processes and stages of designing an online business.
Information on how to set up a website, email campaigns, sales funnels, and more.
The Quick Start area videos designed for new members to help onboard information on Builderall quickly and clearly.
A YouTube channel that's packed full of informational videos, including Builderall tutorials along with helpful tips, tricks, and inspiration for designing and building a successful business using the platform. For extra help and advice, a weekly Builderall meeting is hosted on YouTube.
The Builderall Facebook group is also very useful for both new and established members to connect with other Builderall users to ask questions, share ideas, discuss issues, and learn from the community.
The Builderall Support team – Once a support ticket has been submitted, the support team springs into action and will get back to you ASAP.
How much does Builderall cost?
The pricing is reasonable considering Builderall is a quality tool that includes lots of features and functionality. There are five plans to choose from, ranging from free to $69.90 per month. The amount of access to the Builderall features depends on which package you choose.
The Builderall Premium plan includes all the features offered, but when deciding on a plan, it's important to make sure the plan you choose includes all the features that you're interested in.

Conclusion: Is Builderall Worth It?
Builderall is an affordable integrated platform and comes with all the features you need to build a successful online business. It offers plenty of convenience and, with its all-in-one functionality, provides significant savings. They are also constantly evolving and updating, and stay up to date with current marketing trends. When weighing the price vs. the features and functionality of the platform, Builderall is a great tool.