If you are an email marketer or a digital marketer, I guaranty you definitely have heard at least once about Aweber. Because, when it is about email marketing, Aweber, for decades, has been the superior choice of digital marketers and small business owners.
With the vast advancement of different social media channels and the progression of cell phone marketing through search engine optimization, it is pretty easy to speak out that email marketing in on the edge of dipping. This whole concept is incorrect! Email marketing is thriving and still a useful tool for marketing.
It gives the small business owners more flexibility and drives enhanced return on investment. Thus, your business can establish a smooth relationship while reaching a broader audience at a fraction of expense compared to conventional media. Nevertheless, when people look at the procedure, it may be complex and challenging and demand a lot to invest. But there is an easy way. Email marketing is useful and very simple through auto-responding tools, with auto sign ups, newsletters, and emails.
There are many email marketing tools, but Aweber is one of the best. If you are planning to purchase an auto-responding email marketing tool Aweber is an excellent choice for you. This article is designed purely to educate you about Aweber and how you can unlock its power. Read on. Catch on. Read on.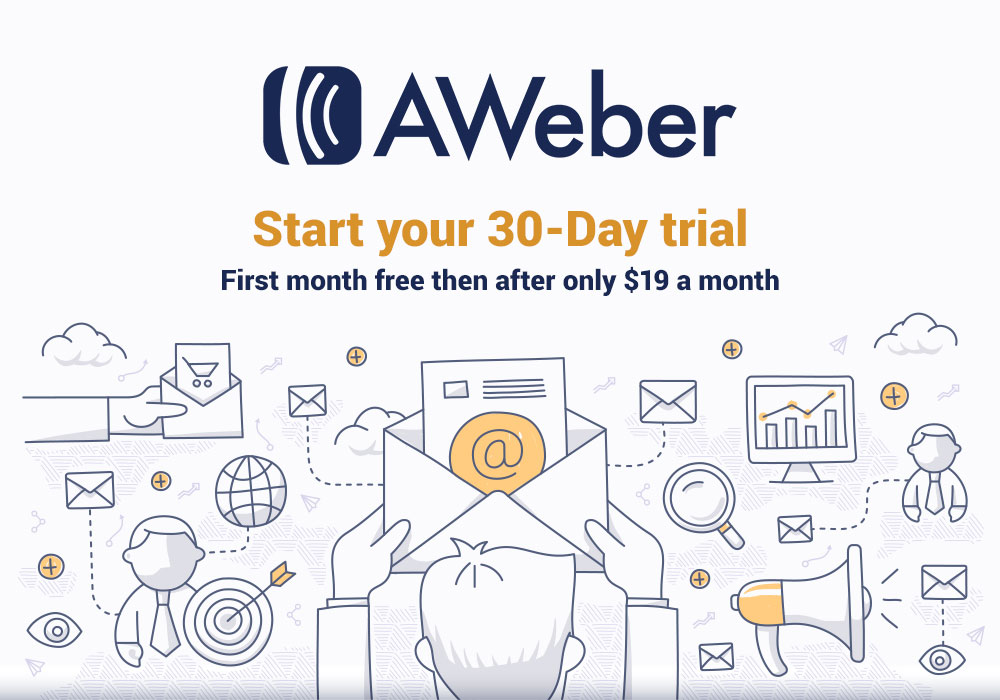 1. What Is Aweber?
Since 1998, Aweber has successfully helped more than 1,000,000 small businesses worldwide to expand their resources and expertise by communicating with their client. Since then, they have built a unique name for themselves in the digital marketing world.
At its core, Aweber is a leading email marketing service software that aims to provide its service to small businesses. They help small businesses build a loyal relationship with their potential clients while helping to increase their mailing list. They help to convert first-time visitors into your loyal customer!
2. Key Features and Benefits That Aweber Is Offering to Its Clients
Aweber believes in several aspects that reduce costs and grow your resources, leading to prosperity. Along with Aweber is offering several great features that you can utilize to build influential email marketing campaigns. Below are listed core of them:
Auto Responding Facility
Signup Forms
Import Emails
Social Integration
Schedule Emails
Subscribers Tracking
Email Split Testing
Subscribers Segmenting and much more
Other general features include the following:
Aweber facilitates you in creating relationships with your clients seamlessly and send an automated sequence of relevant messages.
Aweber helps you in spreading email newsletters, coupons, and exclusive deals.
Aweber is a custom web tool to post registration forms on your website quickly.
Aweber notify your consumers about the latest released posts of your blog.
Aweber offers your consumers a real friendly service to set your campaign and achieve effective results.
These features are just perfect for any small business as they help to save time and focus on other significant projects. Thus, Aweber can do amazing even in your absence. You can see the emails tapped and opened. This helps to create a more substantial email for the future. You can also create sales funnels and landing pages while using the Aweber.
3. How to Generate Leads with Aweber?
Aweber is the email marketing tool. Experts have demonstrated that email marketing is one of the best lead generating tools. You can turn your Aweber into a lead generator. By using the best strategies in email marketing, you can see a remarkable result in your leads. Although it is lead generation is not an overnight process, you will feel the rise in leads.  Keep it in mind that Aweber is a guaranteed lead generation tool, but the email should be authentic.
Professional digital marketers use Aweber for email marketing. It ensures the best lead conversion.  Almost every industry, including healthcare and automobiles, uses email marketing to aware, consider, and promote their products and services.
In your email marketing, keep your content short and precise. Usually, visitors avoid long and massive content. Your email must be having an eye-catching subject line. Update your email list, do not resend emails to no-reply email addresses. Try to make an automated email marketing campaign connect your email with landing pages. People have now shifted to mobile phones instead of PCs and laptops, so make your email mobile-friendly. To generate considerable leads, do have a call to action in your email. Try to run your email marketing campaign at the right time, during office timing.
4. How to Create Sales Funnel with Aweber Landing Pages?
The sale funnel landing pages can be created using Aweber page builder. Post-click landing pages can be created in the Aweber pages builder. These pages are built in a way that the visitor must take immediate action. These pages contain both descriptive and graphical content.
Post-click landing pages are stand-alone pages and many pre-designed templates available on the official website of Aweber.
At the start or you can say at the top of the tunnel, the landing page collects contact details about the visitor, especially email. When a visitor provides you with an email, then start receiving another information that you need. Let your visitor go through the different landing pages and become familiar with your visitor's intent.
Keep in mind that you must provide some social shreds of evidence to convince your visitors.
The majority of the visitors are not prepared to buy your offerings immediately. Aweber page builder is one of the best tools to build landing pages. These landing pages guide the visitors about your offering and move them to the bottom of the tunnel.
In short, these pages help to get your visitors from the level of awareness to conversion.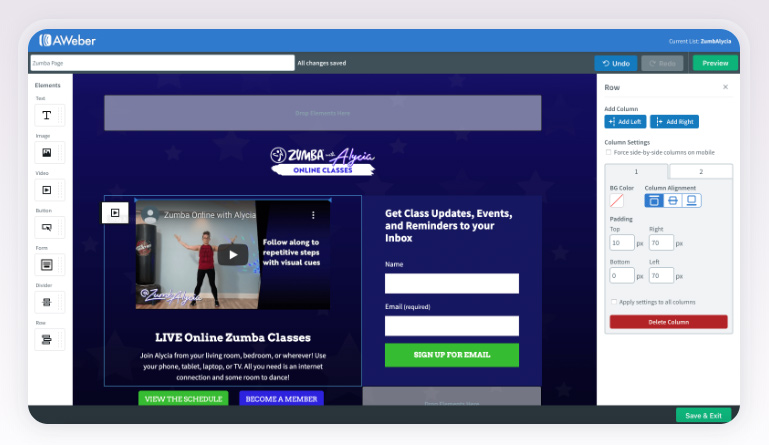 5. Aweber Pricing Rates Per Subscribers
Right now, Aweber is one of the cost-efficient email marketing tools in the market, particularly for new affiliate marketers and bloggers. You can enjoy all of its features for as little as $19 per month for up to 500 subscribers. Below are the basic pricing plans:



6. Aweber and Integrations
As AWeber is one of the industry leaders in email marketing, a lot of CRMs, customer support software, content management systems, payment gateways, and project management tools, etc. effortlessly integrate with it. It offers up to 850 integrations that are reachable from your profile's dashboard.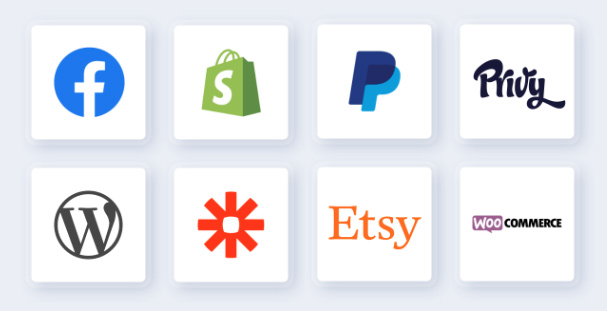 Integrations enable you to combine the capabilities of two separate instruments to accomplish your business objectives. For example, you can integrate your GoToWebinar, WordPress and PayPal accounts with Aweber.
7. Aweber is Providing Highly Efficient Customer Service Support
Aweber is known for its professional service, which is delivered by supportive and polite officials who respond rapidly to concerns and problems. Customer service support is provided through many channels, including email, phone, and chat support.
Email services are open 24/7, whereas live chat is available from 8 a.m. to 8 p.m. Monday through Friday. Live chat support is offered even on Saturdays and Sundays from 9 a.m. to 5 p.m.

8. Pros and Cons of Aweber
Pros
Aweber keeps the software updated to provide communication tools in several ways, which is a significant benefit for you when handling customer relations.
They have made standards which they have kept. Their customer care is fantastic and top-notch. When you need them, their staff is well qualified, polite, and friendly, and easily accessible. If you need anything off-hours, it is easy to follow their management tools and guides, and almost always cover the issue that you are trying to solve.
When upgrading their platforms, it sometimes becomes challenging to learn how to use new things. All told, though, I would prefer to keep adding to their features for us even if it implies to a steeper learning curve in how the new tools can be integrated and used.
A large number of keywords is not allowed.
Layout content components for newsletters — it takes some time to get items to look exactly as you want them too.
9. Is Aweber Right for You?
Aweber is a highly popular email marketing tool that covers a wide range of professions, industries, and objectives. It is designed perfectly for you if you belong to any of the following group of people:
New bloggers wondering to build an email list
Affiliate marketers who are in the business of physical and digital products and services
E-commerce businesses promoting promos and exclusive offers
Trainers and Consultants
Companies are wondering to stay in connection with their subscribers through weekly broadcasts and newsletters.
Digital marketers
Email oriented business
Small business owners who worth excellent customer support service
Conclusion
Aweber is a robust email marketing tool that offers excellent email deliverability. The tool is easy to use. It has made small business work convenient as it helps to give you an overview of the subscriber's stat and the recent campaign etc. It helps to provide insets of various topics and makes small business work easy to understand. They have excellent consumer service, which should be appreciated. Aweber makes compiling an email list as simple as possible and then staying in contact with people as it offers valuable analytics. For the most part, the analytics provided for every email is detailed. This software can boost your business with their long-detailed emails, making the work easy for you, just what you need! Let Aweber do the work for you, while you focus your time and investment in the present and future projects!
Any other questions or confusion? Feel free to drop your queries and concerns in the comments section below. I am here for you.